Application Orchestration
The number of enterprise applications and SAAS services will continue to increase exponentially. The average enterprise uses 91 cloud services for marketing alone. Application growth is expanding faster than that the rate of available IT support resources. This creates a "shadow IT" environment where uncontrolled applications are deployed by business teams in order to keep up with the competition. Shadow IT increases security and compliance risk and frustrates business sponsors. IdRamp will help you accelerate and simplify application integration while it increases reach, security, and compliance.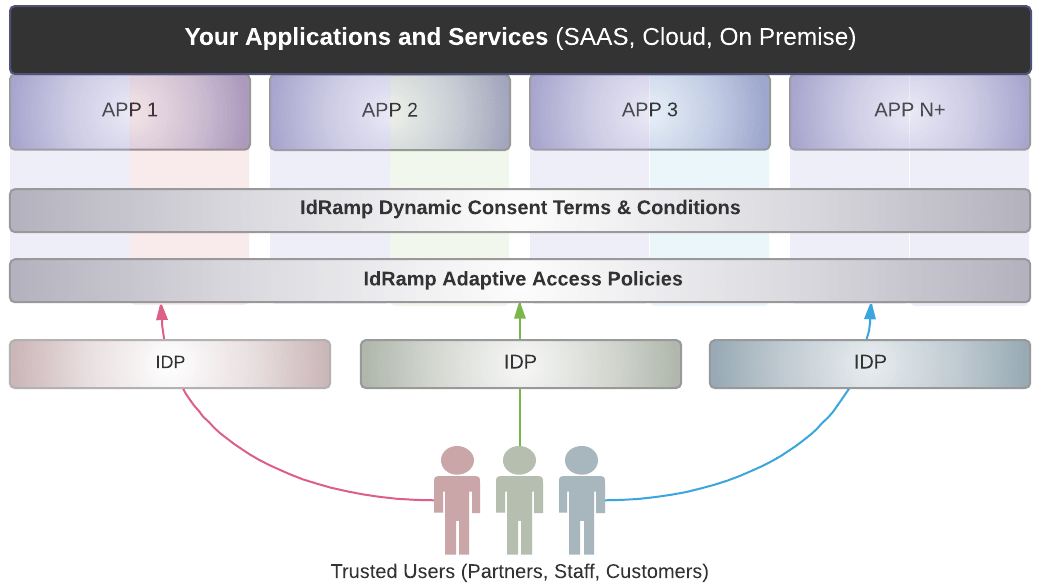 Simplify Application Integration
IdRamp provides plug and play integration across thousands of cloud applications. Centralized access and consent policies can be automated to empower your business with self service integration. A business friendly integration model will eliminate backlog and improve speed to market. IdRamp will unify the access experience with premise applications removing any friction across disconnected applications.
Automate Application Administration
IdRamp will orchestrate policies across any combination of applications, partners, and products. Distribute policy control to business teams that demand IT agility. Provide centralized usage and compliance reporting across all application to optimize cost management and compliance reporting capabilities.
Improve Security
IdRamp Decentralize Identity Fabric will unify access control across any combination of disconnected identity providers. No need to share or host unnecessary data that increases risk and cost.