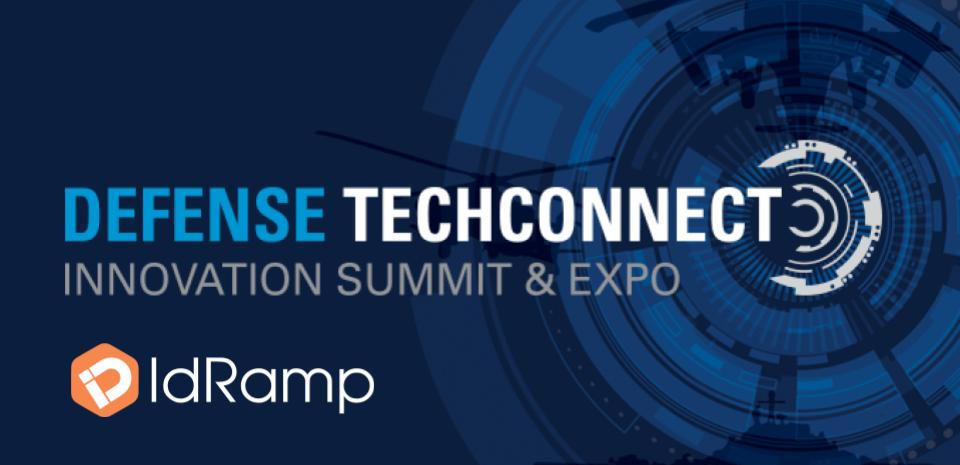 Defense TechConnect Summit Recap – Zero Trust Identity Orchestration
Last month, IdRamp participated in the 2022 Defense TechConnect (DTC) Summit. The yearly event brings together defense, private industry, federal agency, and academic leadership to accelerate state-of-the-art technology solutions for the military and national security. This year's key focus areas include energy, climate, cyber, biodefense, space, advanced manufacturing, and 5G and most importantly– identity. 
IdRamp CEO, Mike Vesey spoke with attendees from across the Federal government about IdRamp's unique Zero Trust authentication platform using blockchain to underpin government ID and PKI orchestration. Using the IdRamp platform, the military and private security organizations can lower barriers to adoption of the mandatory zero trust federal security strategy announced earlier this year by the White House, with easy to deploy identity orchestration.
With IdRamp, the public sector can:

add verifiable digital credentials to proven identities, efficiently deploying a range of IT innovations to customers with greater speed

properly implement a privacy-preserving system and creates a secure and easy to use reusable identity throughout a composable enterprise system

eliminate bad actors, reduce fraud and strengthen the end-user experience.

create a repeatable process that customers, employers and other end users can go through to gain access to different services 

remove the complexity of usernames and passwords 
"The IdRamp framework is very flexible and can easily be adopted to leverage whatever additional back-end verification might be necessary depending on where you're creating the identity." said Vesey, "From CAC cards to SIPRNet, there's all kinds of different requirements and each public sector organization can decide the level of verification necessary and then plug in those mechanisms."
IdRamp delivers robust identity orchestration tools and services to governments and enterprises with a zero trust approach. The IdRamp orchestration platform transforms an organization's technology by bridging legacy Identity and Access Management technology with flexible and easy to use distributed ledger technology built on interoperable open source technology.
To learn more about IdRamp and their Federal government services, contact us.
Orchestrate your systems today
Contact us for a demo on the IdRamp suite of tools and services