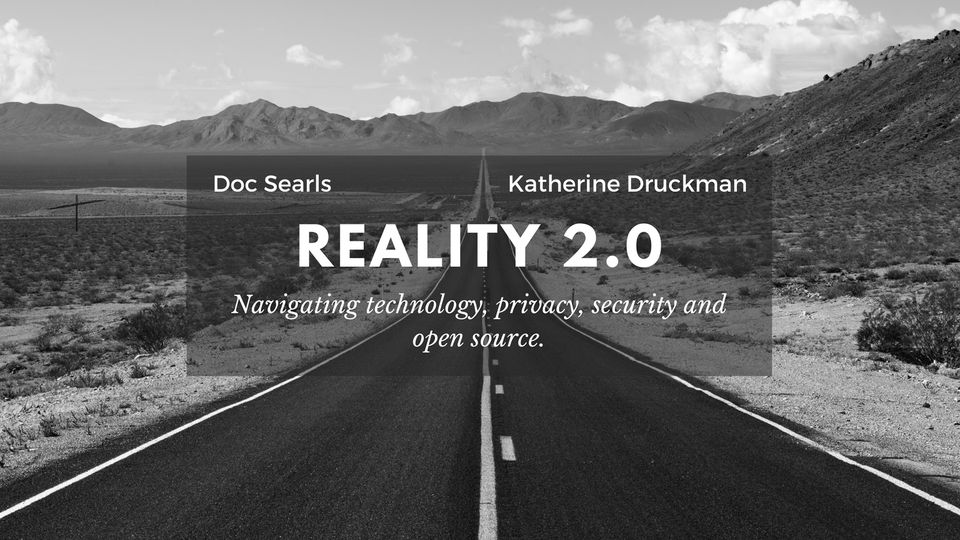 IdRamp Identity Solutions – Reality 2.0 Podcast
Doc Searls and Katherine Druckman talk to Mike Vesey, CEO of IdRamp, about verifiable credentials, decentralization, and real-world identity solutions.
About
About Reality 2.0 Podcast –  Join Privacy and Open Source advocates, Doc Searls and Katherine Druckman, as they navigate the new digital world, covering topics related to digital privacy, cybersecurity, digital identity, as well as Linux and open source and other current issues.
Doc Searls – is co-author of The Cluetrain Manifesto (Basic Books, 2000, 2010), author of The Intention Economy: When Customers Take Charge (Harvard Business Review Press, 2012), a fellow of the Center for Information Technology & Society (CITS) at the University of California, Santa Barbara, and an alumnus fellow of the Berkman Klien Center for Internet & Society at Harvard University. He continues to run ProjectVRM, which he launched at the BKC in 2006, and is a co-founder and board member of its nonprofit spinoff, Customer Commons. He was recently editor-in-chief of the long-running premier open source publication, Linux Journal.
Katherine Druckman – Katherine is a digital privacy and open source software enthusiast and advocate, longtime Digital Director for the late and highly esteemed Linux Journal, as well as a decorative arts history and wine enthusiast. She is currently an enthusiastic Drupal engineer.
Mike Vesey, IdRamp CEO  – Mike has created several companies that provide transformational digital solutions for the global enterprise. He has developed award-winning products in unified communications, service operations, security, and data management. Mike co-founded WebCentric Communications in order to develop innovative telecommunications solutions for modernizing call center integration. WebCentric was awarded a patent for its 'click to dial' technology, which is widely used in call centers today. Mike went on to co-found DBVisions Inc to develop an enterprise grade content management and data security platform. The DBVisions platform was eventually acquired by a leading content management system provider. Michael then founded VCI Inc to focus on identity and security integration. VCI developed the first enterprise Single Sign on solution for Microsoft Live Meeting and a range of related collaboration products. VCI was the exclusive Microsoft partner for deploying Live Meeting into global enterprise environments. VCI has developed and maintained complex identity management integrations with some of the world's largest organizations. Mike's success led him to design IdRamp, a decentralized integration fabric focused on identity orchestration, password elimination, and service delivery. The platform includes support for groundbreaking Self Sovereign Identity, verifiable credentials, and distributed ledger networks that make it easy for organizations to implement state-of-the-art Zero Trust identity protection.
Orchestrate your systems today
Contact us for a demo on the IdRamp suite of tools and services