Why is Oracle Identity Cloud Service better with IdRamp Orchestration?
Oracle Identity Cloud Service (OIDCS) is a powerful identity management (IAM) solution that offers world-class federation, access control, governance, and multi-factor authentication (MFA) capabilities. IdRamp is a digital identity orchestration service that complements OIDCS by offering enhanced flexibility and leading edge security powered by the Oracle blockchain. Combined, they form the perfect solution for Zero Trust identity and digital privacy preservation.
How can IdRamp help my organization?
Investing in a powerful identity platform like OIDCS takes time, planning, and resources. The pace of business change is rapid, chaotic, and infinite. As identity management capabilities become commoditized, it is impractical to re-platform when new capabilities or providers enter the market. Organizations can fast-track deployment of new features and providers by using IdRamp orchestration, without re-platforming IAM or investing in custom development. IdRamp's decentralized identity service allows organizations to make their OIDCS assets more portable, stronger, and easier to use. It simplifies service delivery and saves organizations time and money while preparing them for the future.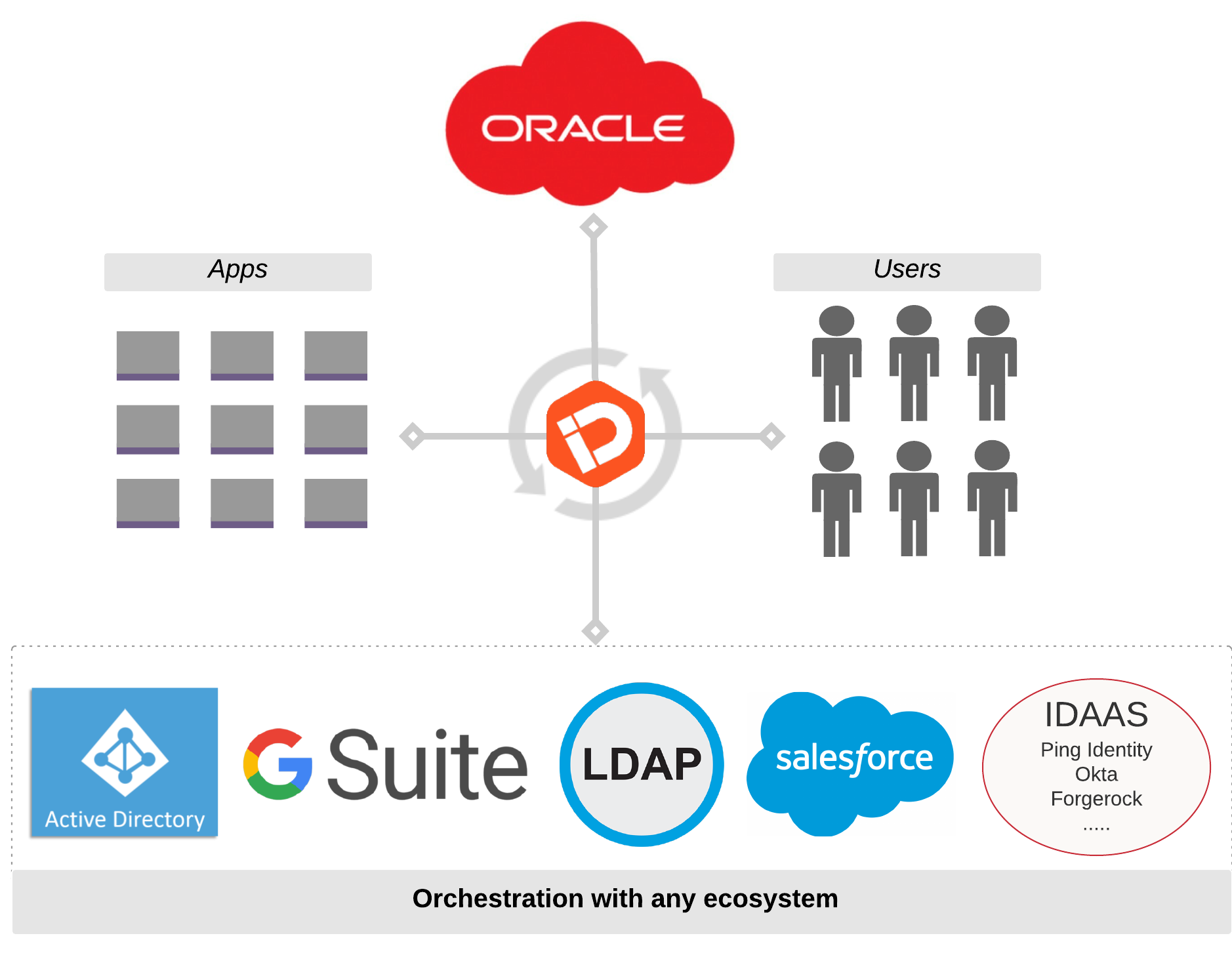 What features does IdRamp provide?
Orchestration
Unify the management of disparate IAM systems and service providers from a single interface using zero code.
Combine multiple identity providers in order to simplify migration and cohabitation with OIDC.
Manage trust policies and service delivery across cloud providers and hybrid systems.
Connect and combine third-party services such as multi-factor authentication, KYC, proofing, biometrics, and business intelligence.
Deliver "bring your own identity" (BYOID) capabilities to any OIDC-managed service.
Create unique user experiences and authentication flows across service providers.
Configure trust policies across organizations, departments, and partner ecosystems.
Streamline service delivery through an easy-to-use configuration dashboard.
Monitor activity across all of your systems and applications with robust analytics.
Credential Management
Eliminate Passwords with verifiable digital credentials powered by Oracle blockchain.
Issue portable digital credentials from OIDCS or any other application in the Oracle ecosystem.
Provide decentralized verification to certify credentials with other organizations.
Connect verifiable credentials to any service using common federation protocols.
Provide state-of-the-art identity proofing and biometric authentication.
Enable DIDComm Messaging for secure, private communication with credential holders.
Employ the Oracle blockchain for advanced auditability and compliance reporting.
Deliver leading-edge privacy preservation and data protection with verifiable credentials.
Private Identity Networks
Create an exclusive identity network powered by Oracle blockchain.
Provide controlled interoperability with other identity networks.
Provide verifiable information for partners, customers, and employees.
Enable strong auditability and immutable traceability of proofing results and documents.
Enable value-add services like KYC sharing with other organizations, jurisdictions, and programs.
Orchestrate your systems today
Contact us for a demo on the IdRamp suite of tools and services