Digital Identity and Continuous Innovation
Webinar On Demand
Thanks for your interest in digital identity and continuous innovation solutions from IdRamp. Please fill out and submit the form below to watch this webinar replay.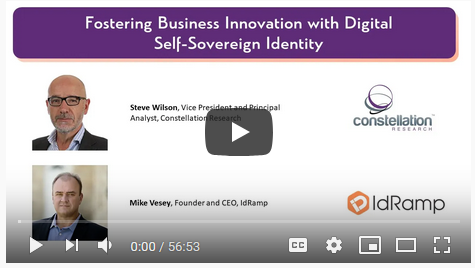 Decentralized identity (DID) and self-sovereign identity (SSI) has been perceived as a nirvana of identity by some analysts, and an overhyped trend by others. But companies like Visa, IBM, Microsoft, Mastercard and Accenture are exploring how it can solve user frustrations with passwords, better protect sensitive data and prevent fraud. SSI opens up new revenue opportunities for many industry verticals, from financial services to healthcare to education.
However, when it comes to business innovation with SSI, there is a lot to cover from verifiable credentials, to wallets and so forth. But more importantly, businesses must understand how the new technology can be exploited to accelerate their digital transformations.
Speakers
Steve Wilson , Constellation Research 
Mike Vesey, IdRamp